Steve "2Pound" Forbes, born in Portland, Oregon, is an American athlete with a successful, longstanding boxing career. He is rated as a welterweight. His childhood presented him with obstacles that he eventually overcame with determination, perseverance and a passion for boxing. Forbes developed a slick boxing style with accurate form that helped him accomplish 35 wins (11 by KO) against some of the boxing industry's heavy hitters. During his noteworthy career, he won the USBA and IBF super featherweight titles.
Early Life
On February 26, 1977, Forbes was born two months premature to his 16-year-old mother and weighed only two pounds. When he was brought home from the hospital his undeveloped heart and lungs shut down. Immediately, he was rushed back to the hospital. Being deemed as significantly unhealthy by doctors, his family was informed that Forbes wasn't expected to survive, unless a miracle occurred.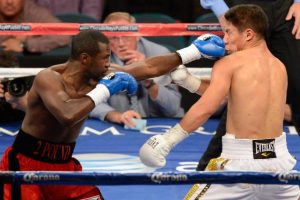 Forbes survived and received the nickname Steve "2Pounds" Forbes. However, his infancy illnesses affected him during his childhood. Many days in Portland, he was unable to play outside because it was raining. Rain was an enemy to young Forbes. Every time he played in it, he would start to shake and get a fever.
Growing up sheltered due to health concerns, Forbes felt limited. However, one day in 1987, 10-year old Forbes was visiting a grocery store inside of a mall when he saw Evander Holyfield on the cover of a copy of the magazine, "The Ring." Holyfield was dubbed the "Fighter of the Year, Undisputed Cruiserweight Champion of the World." That was the defining moment for Forbes when he realized boxing was his calling.
Amateur Boxing Career
When Forbes told his future aspirations to his family and friends, they didn't share his enthusiasm. They were too concerned for his safety. Forbes, however, didn't allow their over-protectiveness to dissuade his vision. With the odds stacked against him, Forbes pursued his dream of becoming a boxing champion. He started training at the age of 10 at the Matt Dishman Community Center in Portland on the Knott ST Boxing Team.
By the time he was 18, Forbes natural boxing skills had developed him into a champion, winning him 15 consecutive fights and five Golden Gloves. His collated amateur boxing record was 57-10.
Professional Boxing Career
In 1996, Forbes went to Las Vegas because he was ready to become a professional boxer during the same time as Floyd Mayweather Jr., David Reid and Fernando Vargas. Four years later, he was matched against former WBC featherweight champion, Alejandro Martín González and lost.
Forbes climbed back into the ring and won a few comeback fights, which enabled him a chance at the USBA Featherweight title shot. On September 17, 2000, he faced off with David Santos. After 12 brutal rounds, Forbes emerged victorious by scores of 117–111, 118–110 and 120–108. He secured the USBA Featherweight title.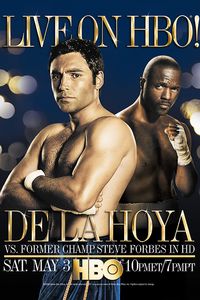 On December 3, 2000, Forbes was given an opportunity to obtain the IBF super featherweight title by fighting the number one ranked John Brown. With the training and support from Floyd Mayweather Sr., Forbes defeated the "Eastern Beast" with an 8 round TKO. In a rematch for his first defense, Forbes beat Brown once again on September 29, 2001.
Forbes was no stranger to adversity even during his professional boxing career. On August 18, 2002, he was stripped of the IBF featherweight title after failing to meet weight requirements for a super featherweight champion during his fight with Santos back in 2000. For Forbes, the hardest thing about losing the title was the fact that it wasn't in the ring. The IBF title remained unclaimed. He tried to reclaim the title by fighting Carlos Hernandez on October 14, 2003, but lost because of an accidental headbutt in the 10th round.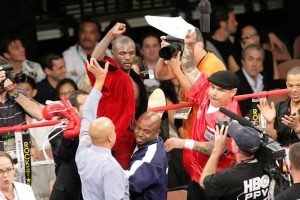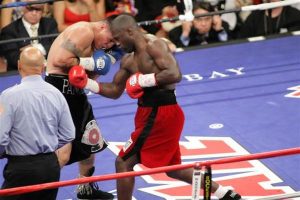 ESPN's The Contender
Forbes was able to resurrect his boxing career by debuting on ESPN's reality show, "The Contender" in 2006. He was selected to be on the Gold Team. Although Steve "2Pounds" Forbes was the smallest one on the series, he still won the first three battles. He defeated Freddy Curiel, Cornelius Bundrage and Nick Acevedo. His boxing skills took him all the way to the finale where he lost to Grady Brewer.

Career After The Contender
After The Contender, Forbes received more boxing opportunities. He faced off against Demetrius "The Gladiator" Hopkins on March 17, 2007 where he lost. However, the decision was disputed and controversial according to many in the boxing media. On October 6, 2007, Forbes defeated Francisco Bojado in a junior welterweight fight.
His success landed him in the ring with Oscar "The Golden Boy" De La Hoya on May 3, 2008 at the Home Depot Center in Carson, California. It was one of the most epic bouts of his career. Forbes was defeated, but not by knockout. He played with heart. De La Hoya left with a cracked cheekbone and didn't manage to do any serious damage to Forbes.
On March 6, 2009, Forbes stepped into the ring in Oregon with Jason Davis and won by a TKO in only two rounds.