Oregon natives Steve "2Pound" Forbes and his partner Christina Lunzman are the first promotion company to have Professional and Amateur Boxing on the same card in Oregon. 2Pound Sports and Entertainment, llc is the premier boxing promotion in the area and will hold regular events in the community. The last time professional boxing by itself  was in Portland, OR was in 2005 and Steve fought on the Mayweather vs Mitchel card. There has never been amateur boxing followed by professional boxing in the same show until now, we have brought the sport of boxing back to Portland.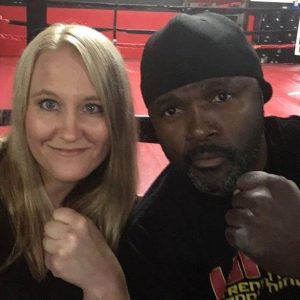 Next show April, 6th 2019 
Where: Clackamas Armory   15300 SE Minuteman Way 
Clackamas, Or   97015
Time: doors open 5:30 pm, fight starts 6:30 pm
Tickets:  www.tickettomato.com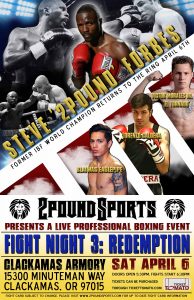 Featuring Oregon's very own former IBF World Boxing Champion Steve "2Pound" Forbes, along side Oregon's local talent including Victor Morales jr., Bliawas Eaglepipe and Lorenzo Caldera making his pro debut all fighting in their hometown.
Full fight card to come, fight card subject to change.
******
Follow us on Facebook: 2Pound Sports and Entertainment
Instagram: 2poundsportsentertainment
 2Pound Fight night videos and pictures on Facebook page
YouTube:  2Pound Sports and Entertainment
******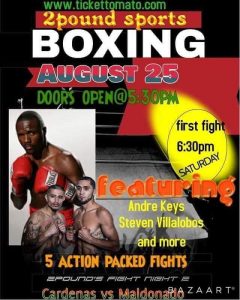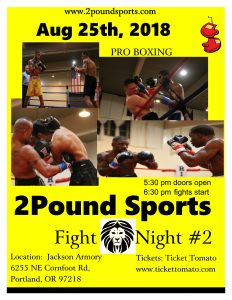 August 25th, 2018 fight card 
147 lbs    Steven "Hands of Gold" Villalobos (9-0-1, 8 KOs) Burlington, WA   VS   Leonel Jimenez (5-23-1, 4 KOs) Eagle Pass, TX  7 rounds
152 lbs    Andre Keys (7-1, 3 KOs) Tacoma, WA   VS   Somethonit Phoumychak (0-3) CA  6 rounds
128 lbs     Blaiwas Eaglepipe (1-0) Portland, OR VS   Juan Huerta (pro debut) Seattle, WA  5 rounds
132 lbs     Gerardo Esquivel (pro debut) Salem, OR  VS   Greg Cruz, (pro debut) Seattle, WA  4 rounds
148 lbs    Jesse Barich (0-4) Tacoma, WA   VS   Kevin Davila (1-7-2) Puyallup, WA 6 rounds
Some media link's below of 2Pound Sports and Entertainment
https://fightnews.com/steve-forbes-to-promote-portland-card-aug-25/26688
http://fightnews.com/steve-forbes-promote-first-show-dec-9/8226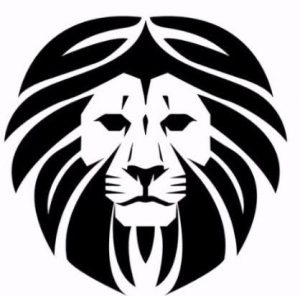 2017 fight details
Professional Boxers 12/9/17 Jackson Armory Bout sheet
202 lbs Marquice Weston   11-1 Tacoma, WA   VS   Armondo Ancona   8-6 Columbus, OH  7 Rounds
175 lbs  James Ballard   9-0 Detroit, MI   VS   Britton Norwood   4-1 Brandon, MS    6 Rounds
156 lbs Oscar Hernandez  1-1 Portland, OR   VS   Marco Russell  1-1 Henderson, NV    4 Rounds
150 lbs Shawn Harwood  0-0 California (Pro debut)   VS   Oscar Herrera  0-0 Portland, OR (Pro debut)   4 Rounds
147 lbs Jesse Barich 0-3 Tacoma, WA   VS   Nicholas Jefferson 2-0 Tacoma, WA   5 Rounds
Amateur Boxers
*  141 lbs Lorenzo Caldera  Portland, OR   VS   Gerardo Esquivel   Grantspass, OR     
* 154 lbs  Kevin Evans  Eugene, OR   VS   Julio Gamino  Eugene, OR
* 110 lbs  Koa Gabriel  Damascus, OR   VS   Alex Meraz   Idaho 
154 lbs   Angel Martinez  Beaverton, OR   VS   Pedro Torres  Salem, OR
* = Title ABO 2Pound Sports Championship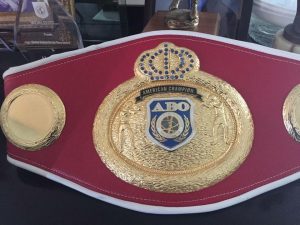 Media Link's below of 2Pound Sports and Entertainment
http://fightnews.com/steve-forbes-promote-first-show-dec-9/8226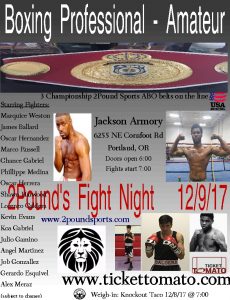 Owners: Steve "2Pound" Forbes and Christina Lunzman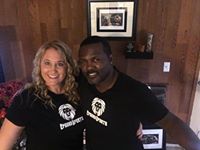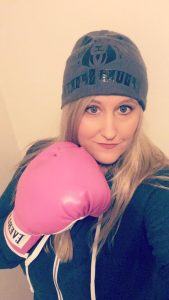 Supporting Breast cancer awareness month Knocking Cancer Out